ASPORTUGUESAS is a new footwear concept that was born with the purpose of creating quality, sustainable & eco-friendly footwear. We are proud to be the world's first Cork flip-flops brand, using a 100% natural raw material that is born from a tree and retrieved every nine years without the tree ever being cut down. We are inspired by Nature, and with our unique choice of Natural & Recycled materials we are commited in giving back!
#BETHECHANGE YOU WISH TO SEE IN THE WORLD
Wearing ASPORTUGUESAS is a step towards a more sustainable future. For us, the environment's preservation is as important as the creation of good footwear. From the choice of materials to the way we produce and communicate our products, we do everyhing to use the least amout of natural resources as possible. By purchasing ASPORTUGUESAS you are taking this trip with us, not only in style and comfort, but also with the certainty that you are contributing to create a greener planet.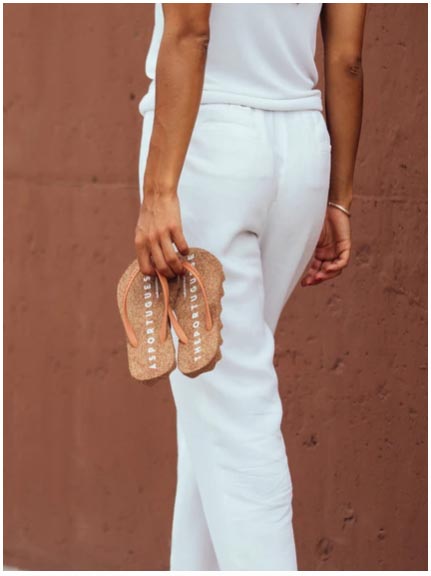 Our Steps Towards a More Sustainable Future

Sustainable materials
Our blend of rubber and 100% Natural Cork in our soles, combines with the Sustainable & Recycled materials, allows us to use the least amount of natural resources as possible making ASPORTUGUESAS uniquely sustainable.

Negative carbon footprint
Cork is a natural CO2 retainer, able to capture 740 times it's weight from the atmosphere. Since the entire ASPORTUGUESAS manufacturing process produces minimal emissions, our CO2 balance is negative, contributing to a much cleaner atmosphere.

Manual extraction
The process of extracting cork is an ancestral art, done exclusively by hand. Due to the delicateness of the procedure, workers are extensively trained and no power tools or mechanical tools are used.

Strong local economy
All work is done exclusively by local workers, from the extration to the manufacture of the footwear. The allows for more jobs to be created and maintained in the more rural areas of the country, and for cork workers to be the highest paid in the Portuguese agricultural sector.

Zero trees cut
The cork oak is the only tree whose bark is self-regenerating. This allows for it to be extracted every 9 years. Thanks to this unique feature, cork can be harvested without damaging the cork oak, allowing it to live on average up to 200 years.

Green Communication
In every collection we launch, we ensure that our displays, packaging and promotional materials are sustainable. Whenever possible, we use recycled or recyclable materials, with as little ink as possible.